The Umbrella Hub Arrangement (UHA) provides a financially sustainable system for billing and processing claims from Centers for Medicaid and Medicare, Managed Care Organizations, and other payers on behalf of community-based organizations delivering the National Diabetes Prevention Program's Lifestyle Change Program. The Health Promotion Council (HPC) acts as the Umbrella Hub Organization (UHO) providing direct services and technical assistance to community-based organizations know as 'Affiliates'. Specifically, the UHO supports data submission, billing and claims, and the development of a strong payer pipeline which includes Medicare, Medicaid, and private insurers. Affiliates are then able to focus on participant recruitment, retention, and strong program delivery.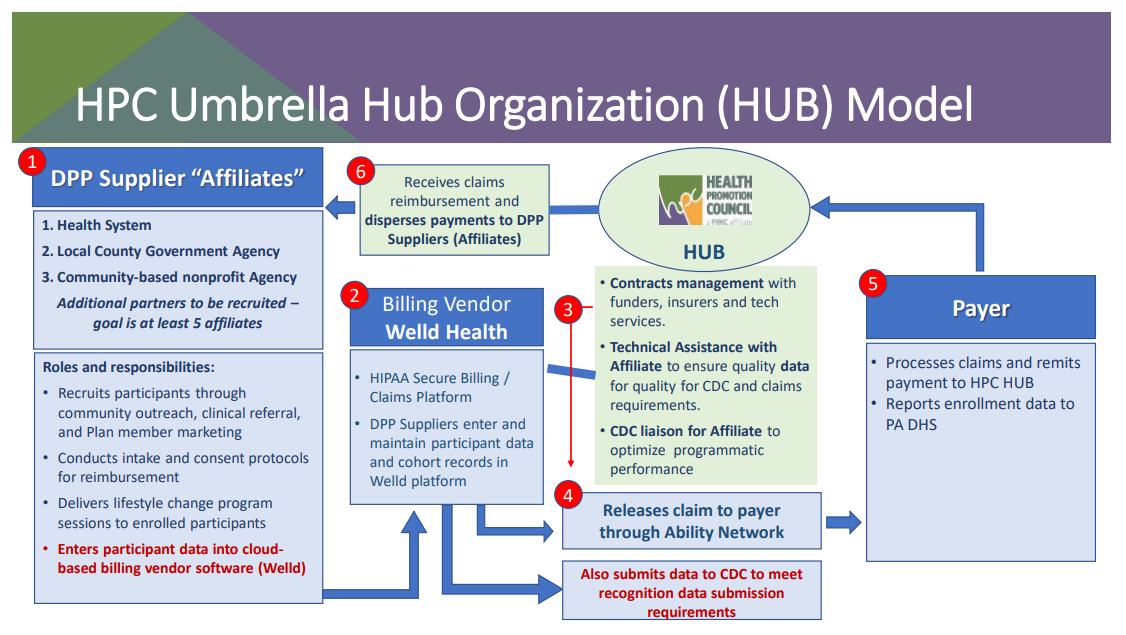 There are 3 categories of service that UHO performs:
HPC's main services within the UHA are:
Service One: Contracts Management
Maintains contractual agreements with national and other funding entities to support sustainable UHO.
Maintains CDC DPRP Full Recognition.
Establish and maintain contractual relationship and communication with data and claims software vendor.
Obtain and sustain provider enrollments with Centers for Medicaid & Medicare Services MDPP and state-specific Medicaid offices.
Negotiate, establish, and maintain contracts with health plans on behalf of UHO affiliates including Medicaid Managed Care Organizations payer arrangements.
Service Two: Technical Assistance with National DPP Data and Claims Management
Monitor and assure quality of CDC Diabetes Prevention Recognition Program data.
Provide programmatic updates for Affiliates and convene a learning collaborative focused on the sharing of best practices around recruitment and retention.
Support the development of recruitment and referral pathways.
Integrate potential clinical referrals to increase program demand and ease program delivery costs.
Submit claims with a quality control method.
Receive claims reimbursement on behalf of affiliates and disperse payments
Service Three: CDC Diabetes Prevention Recognition Program Liaison
Communicate with CDC on data submission, evaluation, and compliance.
Guides affiliates' performance improvement measures, e.g., attendance, weight loss, and physical activity.
Advocates for program access and utilization to meet the needs of a dynamic audience.